A new paper in Science by Darimont et al. argues that humans take a far higher proportion of adult fish and wildlife than other predators and that humans function as an unsustainable "super predator," which—unless additionally constrained by managers—will continue to alter ecological and evolutionary processes.
Jump to Ray Hilborn's response
Jump to Terrance Quinn's response
Jump to Jeppe Kolding's response
Here is the paper's abstract:
Paradigms of sustainable exploitation focus on population dynamics of prey and yields to humanity but ignore the behavior of humans as predators. We compared patterns of predation by contemporary hunters and fishers with those of other predators that compete over shared prey (terrestrial mammals and marine fishes). Our global survey (2125 estimates of annual finite exploitation rate) revealed that humans kill adult prey, the reproductive capital of populations, at much higher median rates than other predators (up to 14 times higher), with particularly intense exploitation of terrestrial carnivores and fishes. Given this competitive dominance, impacts on predators, and other unique predatory behavior, we suggest that humans function as an unsustainable "super predator," which—unless additionally constrained by managers—will continue to alter ecological and evolutionary processes globally.
The centerpiece of this papers "analysis" is estimates of the fraction of the adult population harvested by different predators. In essence, they sought data on how much of prey species x was eaten by species y, and compared that to the exploitation rate by humans. The figure below from their paper plots the distribution of exploitation rates for natural predators (light blue), compared to human predators, (dark blue), for three different trophic levels of prey. In each case median predation rate of the natural predators is far below that of human predators … up to 14 times lower, according to the paper.
This paper claims that humans have a up to 14 times higher exploitation rate than natural predators. There is a basic flaw in the analysis which diminishes the validity of the conclusions the authors come to.  First the calculated predation rate of natural predators will depend on how many predators you look at. Dozens or even hundreds of species may prey upon a given species, most of them taking a trivial fraction of the prey. If you find data only for the most important predators (the ones that take the most of the prey species) you will estimate a high predation rate, but if you find data for all the species that prey upon a species the median will be much much lower. In fact there are hundreds of potential predators for any species, most take none of the prey species, so if you had data for all of them you would say that the average predation rate was nearly zero for natural predators. Thus the more data on predation rate for individual species you can find, and the more you find predation data for trivial predators, the lower you will estimate "average" predation. However, if you look at the predators who take the most of the specific prey the fraction of the prey will be much higher and often more than humans.
The more important question is what is the total predation rate compared to the human exploitation rate? One has to read the Darimont paper carefully to realize they are talking about rates of individual predatory species, not rates of predators as a whole. For instance their abstract says "humans kill adult prey… at much higher median rates than other predators (up to 14 times higher)." Thus they are comparing the rates of all other predatory species taken one at a time to that of humans. There may be natural predators who have a very high predation rate (higher than humans) , but they are masked by the average of other predators with low rates. The clear implication is that we take more adults than do predators. Much of the media coverage interprets their results this way. This is absolutely not true as shown in the analysis below which shows that humans take about ½ as many adult fish as marine predators.
For example, case 120 of the Table S1 in the Darimont papers gives predation rates for 15 species feeding on round sardinella (Sardinella aurita) in the North Atlantic. Nine of these predators have annual predation rates of 1% or less, but the top three predators have predation rates of 71%, 44% and 40%. The median predation rate is 1%, which turns out to be a very deceptive statistic to characterize natural predation rates and a strongly misleading one if it is meant to indicate the aggregate prey removal rate.
To compare the rates of fishing mortality to rates of natural mortality (almost all of which is from predation), I used the RAM Legacy Stock Assessment Data Base, the same data base used by Dairmont et al. to obtain fishing mortality rates. I selected the 223 fish stocks for which we had both natural mortality and human exploitation rates, and plot the distribution of the two in the graph below. We find that fishing mortality on adult fish is on average roughly ½ of the predation rate — not 14 times higher as the abstract of their paper would leave you to believe.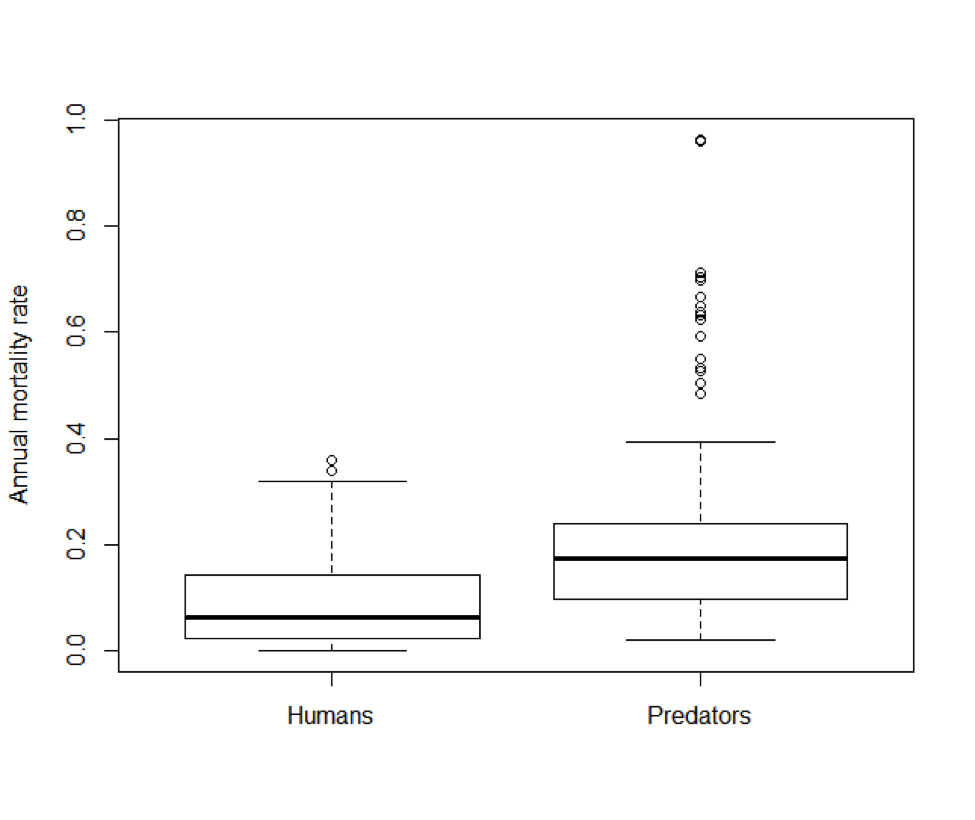 In aggregate predators take far more adult fish than do humans, but you would not understand that by reading the Darimont paper.  Using the data from Table S1 in their supplemental materials, and choosing all cases where there were more than three natural predators identified and a human predation rate given for the same prey, we see that the total natural predation rate is with one exception always higher than the human predation rate (Fig. 2).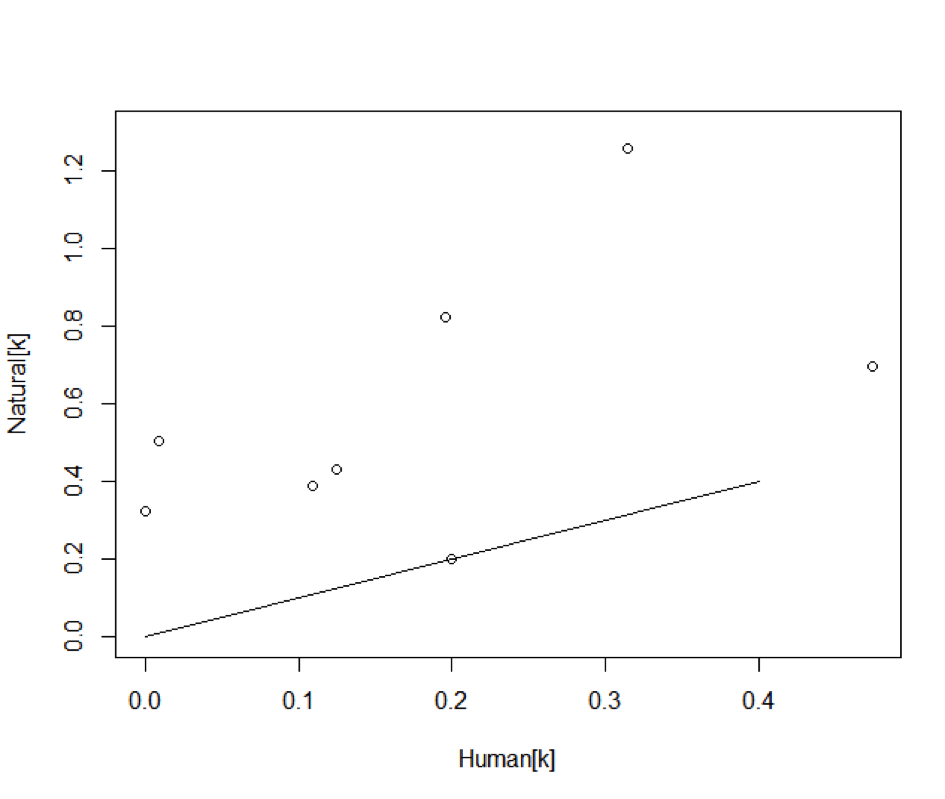 The authors conclude that argument that globally humans are unsustainable predators. This flies in the face of the fact that we have considerable empirical evidence that we can sustainably harvest fish and wildlife populations. The basic key to sustainable harvesting is keeping the fraction exploited at a level that can be sustained in the long term, and adjusting harvest up and down as populations fluctuate. The Food and Agriculture Organization of the United Nations provides the most comprehensive analysis of the status of global fisheries and estimates than about 30% of global fish stocks are overexploited – the other 70% are at levels of abundance that are generally considered sustainable. Many fisheries are evaluated by independent organizations like the Marine Stewardship Council and Monterey Bay Aquarium and classified as "sustainable" yet Darimont and co-authors suggest that no fisheries are sustainably managed.
As an example, sockeye salmon in Bristol Bay Alaska have been sustainably managed for over a century, have been evaluated as sustainable by every independent organization, and the key is limiting harvest so that enough fish reach the spawning grounds to replenish the species. In this case humans take about 2/3 of the returning adult salmon – a much higher fraction than the predators, but it is sustainable and stocks are at record abundance.
Darimont and coauthors suggest we need to reduce exploitation pressure by as much as 10 fold. This may be true in some places but in the US we manage fisheries quite successfully. We agree with the authors that management is key to keeping healthy and sustainable populations of fish and wildlife. However, instead of "emulating natural predators" and decreasing human exploitation across the board, we need to work to use our knowledge to expand good management practices to more species and areas of the world.
Darimont and co-authors argue that humans should act more like natural predators, without giving any justification for this.   Boris Worm provided a comment also published in the same issue of Science in which he said "we have the unusual ability to analyze and consciously adjust our behavior to minimize deleterious consequences." I couldn't agree more. We manage our fisheries to balance benefits to humans and maintain healthy ecosystems. We know how to sustainably manage fisheries and wildlife and in many places are doing a very good job at it.
Ray Hilborn is a Professor in the School of Aquatic and Fishery Sciences at the University of Washington. Find him on twitter here: @hilbornr
Comment by Terrance Quinn, University of Alaska
In the recent article "The unique ecology of human predators" by Chris T. Darimont, Caroline H. Fox, Heather M. Bryan, and Thomas E. Reimchen, published August 21, 2015 in Science, argues that the human species is a super-predator that ravishes fish and other populations by eating up to 14 times more than any other species, including whales and sharks. Their main conclusion is that this predation by humans is unsustainable and needs to be drastically reduced. A similar argument was made 20 years ago by Chuck Fowler at the National Marine Mammal Laboratory. More recently, there are many humans jumping on the "balanced harvesting" bandwagon, seeking "a strategy that distributes fishing pressure across the wider possible range of trophic levels, sizes and species of an ecosystem, in proportion to their natural productivity, reducing fishing pressure where it is excessive" as an alternative strategy to manage fisheries sustainably in relation to their productivity. (But isn't that what single-species biological reference points achieve?).
Ironically, in our article Sustainability in Single-Species Population Models, Jeremy Collie and I quoted tongue-in-cheek at the beginning of the Introduction from the movie, The Matrix (1997):
Agent Smith: "Every mammal on this planet instinctively develops a natural equilibrium with the surrounding environment. But you humans do not. You move to an area and you multiply and multiply until every natural resource is consumed and the only way you can survive is to spread to another area. There is another organism on this planet that follows the same pattern… A virus. Human beings are a disease, a cancer of this planet. You are a plague." – The Matrix (Larry and Andy Wachowski, 1997)
But in our article, we argued that the concept of sustainability has evolved over time to become more precautionary and to explicitly protect reproductive value of the population in light of great uncertainties in data, population dynamics, and models. We argued that, "The advances made under the single-species approach should not be abandoned in the post-modern era, but rather enhanced and combined with new approaches in the multi-species and economic realms."
Furthermore, population dynamics and stock assessment scientists are really quite good at utilizing real data in population models that have the capability of predicting responses to human exploitation. Over the last 20 years, almost all fisheries have reined in unsustainable harvests and have at least begun the process of rebuilding to levels which provide good current employment and income, while preserving the population's reproductive capacity for future generations. We are closer than ever to having sustainable exploitation by fisheries world-wide, based on proper data collection programs, advanced mathematical and statistical modeling of fish populations and their fisheries, and sophisticated simulation testing of alternative fisheries management systems. Fishery managers everywhere have embraced the goal of ecosystem-based fishery management and, aided by competent agency, university, and consulting scientists, are finding novel and unique ways of implementing it every day. Super-predator, nah!
Terrance J. Quinn II is a Professor at the Juneau Fisheries Center, School of Fisheries and Ocean Sciences at the University of Alaska Fairbanks. Contact him here: Terry.Quinn@alaska.edu
Comment by Jeppe Kolding, University of Bergen, Norway
The article "The unique ecology of human predators" by Chris T. Darimont and coauthors in Science claims that humans have a much higher exploitation rate (up to 14 times higher) than natural predators, and that this mortality is primarily aimed at adult organisms in contrast to natural predators who primarily target juveniles or weak individuals. The authors argue that we need to change our harvesting pattern to be more in line with the natural mortality that populations have adapted to. While I am very much in favor of changing our harvesting pattern to be more congruent with natural mortality, this is where my enthusiasm ends as the reported results are based on two serious methodological flaws:
Darimont et al. define the exploitation rate (in supplementary online material) as, Yield (Y) divided by Biomass (B), and the authors have excluded all observed values > 1. In fisheries literature, this definition is equal to what we call fishing mortality (F = Y/B), and in many instances the value can easily be bigger than 1; it depends on the turnover rate of the population. In Lake Kariba, Africa, for example, where I worked for some years, the pelagic stock of small freshwater clupeids (Kapenta) is yielding around 30,000 tons of fish per year, but the standing biomass is only around 15,000 tons on average, which gives a fishing mortality rate of 2 per year (would thus have been excluded from their analysis). But this figure is totally sustainable since the turnover rate of the stock (known as the production to biomass or P/B ratio) is around 5 per year, thus the biomass regenerate itself 5x per year, which mean the annual production (P) is around 75,000 tons (=15,000*5 = 75,000) per year. Thus the real 'exploitation rate' is only = 30/75 = 0.4!! Thus if one wants to calculate exploitation rate (Y/P) one needs to divide the annual yield with the annual production not with the average standing biomass (where the value can go as high as 4). Thus, the definition of exploitation rate used By Darimont at al., is seriously biased towards low productive species high in the food web (where annual turnover is close to standing biomass) and underestimates the fundamental contribution of high productive species, low in the food web.
My other concern is the same as also pointed out by Ray Hilborn above, namely that predation rates were calculated for each separate predator as consumption/biomass. The first problem is that this has the same error as the human exploitation rate explained above, as the most correct method is to divide by prey production—not biomass. Additionally, many prey species have multiple predators so the predation pressure (exploitation rate) is the combined extraction of all predators on prey (just like the human exploitation rate is the combined yield of all fishermen or all boats in the fishery). When one sums the predation pressure from all natural predators, then it is significantly higher than the human exploitation. Figure 1 demonstrates this. It is based on 129 Ecopath models that show natural predation rates as well as human predation (fishing) rates. These models were selected from Christensen et al. (2014) and are some of the same as used by Darimont et al. in their article. Figure 1 shows the predator exploitation rate, sum of predator consumption divided by production of prey, (green diamonds) and the humans exploitation rate, fishing, (red circles), plotted against trophic level. The blue line with green triangles is the Ecotrophic Efficiency, which is essentially the total predation pressure and total fishing mortality added together. As Figure 1 shows, it is only when organisms have a trophic level of around 4-5 (top predators in the systems), that the human exploitation pressure reaches levels comparable to those of the natural predators. Aside from these higher trophic level fish (sharks, tuna, salmon), the natural predation is significantly higher than humans. Still, the figure clearly shows, as Darimont et al. argue, that humans are targeting primarily high trophic level species, and much less low trophic level. However, the statement that humans have a much higher exploitation rate (up to 14 times higher) than natural predators on fish populations is based on bad calculations and cannot be considered correct.
Jeppe Kolding is Associate professor at Department of Biology, University of Bergen, Norway. Contact him here: Jeppe.kolding@uib.no